Akashima Shikoku Kennels
I have been breeding dogs for over 40 years for performance and companionship; first as kennel "of Goosak" in Europe and once I moved to Canada as kennel "Akashima" which is a permanently registered name with the Canadian Kennel Club.
Siberian Huskies were my first breed with which I mushed competitively in Europe.
Later due to life-style changes I started breeding Shiba Inus which ultimately led me to my interest and fascination with the Shikoku.
Today I concentrate my efforts with the Shikoku.
Perfect Genetics and Health
Generations of my dogs have been tracked for any gene expression deviations supported with my robust health testing regime.  All dogs intended for breeding are tested and evaluated for proper hips and patellas. Serf (eye testing) is conducted bi-annually until the dog is retired., all of which is supported by my guarantee*.
Extraordinary Results
Happy owners, healthy dogs, excellent temperament, strong hunting drive and tons of awards and trophies from all over the world. It's the result of investment and many years of hard work. We are so proud!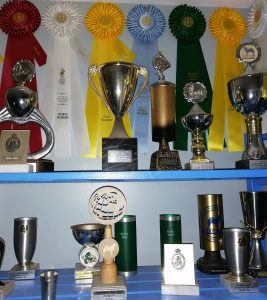 * Details and limitations are outlined in my contracts.